Social networking can be pretty great, I will be the first to admit that I am frequently on varying social media sites looking at new ideas, keeping up to date on friends timelines, making new business connections and following the top stories as well as using them as a resource for educating. It seems it has not become a habit but a way of life in this day and age.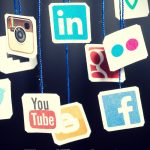 The Oxford dictionary defines social media as 'Websites and applications that enable users to create and share content or to participate in social networking'. This it does and it appears that there is an endless list of social media sites where we can connect, like, follow, stream, share and react. For us, here at JezO's Events HQ, being such a sociable bunch this is great! I get to share and tell all of our news, information and fun in so many different ways.
So do you know of all of the ways you can find us within the great big world of social media??
1. Facebook
Type in JezO's Events Ltd into your Facebook search bar and there we are. Our black and red logo. The team are often posting updates on the virtual bulletin board. You can also leave messages on our wall, as well as take a look at videos and photos we have posted in the past. We have also just launched our first Facebook competition (plus I love the new 'live' action, something I plan on taking full advantage of over future events). React with Emojis……….. Emoji's………!! A whole separate blog is needed just for Emojis and their use to communicate.
Stay up to date on all things JezO's on our Facebook page, like our page then get liking, reacting, sharing and commenting.
2. LinkedIn
Connect. Find. Be Found. Power your career. Learn and Share. As LinkedIn describes this is the purpose for using LinkedIn. Find us on LinkedIn at JezO's Events Ltd, for business and employment purposes. Connect and follow us on LinkedIn, interact with us as we share our news and opportunities in a professional context.
3. Instagram
You may be thinking "Insta-who?" But trust me you have come across a photo at some point, somewhere that has been "instagrammed" Instagram photos are fun and "Cool". Something I'm not.
Here at JezO's we are regularly uploading pictures and videos onto Instagram. Find us at jezosevents.
There is nothing more I love than uploading a picture to tell a story, then choosing a filter to transform the look and feel of the picture and enhance the JezO's Crew in a 2am field shot, #photoshopping! send to other social media sites as well as sharing to Instagram. Easy.
4. Twitter
There's nothing better than a good tweet, one that is retweeted time and again, and trending. Short and to the point, giving links to relevant pages on the internet.
Why not follow us on twitter. @jezosevents is where we are. Lets get the JezO's Events brand trending.
So following a quick coffee break amongst the realms of social media chit chat, we are now on the 5th way to find us on social media.
5. YouTube
Here at JezO's Events Ltd. We have our own YouTube channel. Why not subscribe? simply in the YouTube search section type in JezO's Events Ltd and there you will find all of the videos we have uploaded. I would not give this one a miss. Who would not want to watch a video going back to 2010 with JezO magic and laughter show promo? How young does the boss look in that video? More recently you can see the amazing creations from the events team.
6. Google+
Did you know you can find us on Google+? You can find all of the information you need to know about us on one of the Worlds leading search engines. Also Google+ Communities is where you can find us, full of information and pictures about JezO's Events and the services we provide.
Simply type in JezO's Events Ltd into the google search button and have all of the information you need about us at your fingertips
7. Pinterest
Yes. JezO's Events Ltd are on Pinterest. Who knew?! A handy tool to post and pin pictures creating your own album. Take a look at our albums for ideas and inspiration for your events, as well as this storing links and projects. The perfect way to get organized with all things JezO's. Its also a great way to connect with us and comment, like and re pin things of interest.
8. Tumblr
Last but not least you can find us on Tumblr. Here we post videos and photos, text blogs and music. I personally like Tumblr for its simplicity and diversity. So in search Tumblr type in jezosevents and you are away.

So to sum up our world of social media. Like, share, tweet, follow, retweet, react, pin, tag, re-pin, comment, post, #JezOsEvents, @JezOsEvents. Lets not forget that you can also follow us on our news feed and blog on our website.
Or if all else fails why not pick up the telephone and give us a call or put pen to paper and write a good old fashioned letter.
We'd love to hear from you.
Suzie and the JezO's Events Team.