The perfect system for your indoor stage
We stock over 60 boards of Prolyte stage Dex in varying sizes including 2m x 1m, 1m x 1m and 2m x 0.5m, this gives a flexible staging system suitable for fitting in any venue.
Fitted to your specific height with stage legs available at 1ft, 2ft, 3ft and also built to custom specification.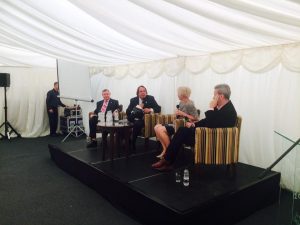 With a polished black finish, stage skirt and steps it is the perfect set up for a conference or  awards ceremony as well as using the staging to create a  focal point for your themed event.
This staging system can be dry hired or our crew can happily deliver, set up and collect after your event.