JezO, winner of this years close up Magic award will be performing at the Pentacle Clubs second Annual Magic show.
Continue reading
JezO and his lady of mystery will be performing WOW illusions and magic spectacular at the Queens 90th Birthday Celebration in Luton on Thursday 21st April.
Continue reading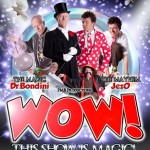 Magic IS cool. See two of the country's foremost magicians in this newly created stage show for all the family.
Continue reading