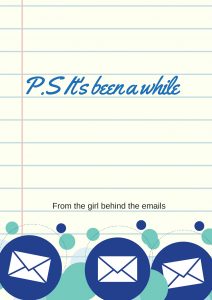 P.S It's been a while.
It's been an exciting time and we have so much to share since I last stepped out from behind the emails.
Our giant mushrooms made there debut back in March in a welcome to wonderland themed event
With flamingos 'on trend' in true JezO's Events style we've gone oversized!
Our two giant flamingos have been perched at many events already….though when not out on hire I get to share an office with these two pink wading birds!!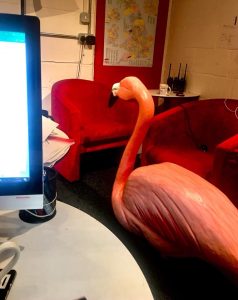 So following St. George's Day event season officially kicked off!
Hollywood themed events in Canary Wharf, duck races, corporate 20 year celebrations.
Staging hires, staging and MORE staging hires.
PA hires, PA and more PA hires..
We do BIG stages and BIG sound. Trust me… HQ is filled with it!
Staging, I know how it works. As for the technical stuff…. I'm just the girl behind the emails….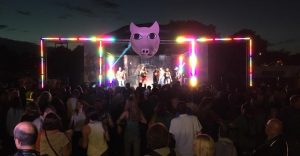 So this is me.
There's planning, planning, art work, planning, logistics, meetings, bookings, quotes and more logistics….
I am happy in front of my computer screen replying to enquiries and getting to have a conversation with those who leave voicemails awaiting my return call however when asked I love to leave my office chair and drive a van to site. The bigger the van the better.
Just don't ask me to park it!
And notice is always preferable…..van driving, loading and unloading aren't top of the list when choosing the days outfit for office…
There's only so much an office girl can do on site in boots with heels!
As the heatwave continues on the energy bills are sufficiently reduced without the need of having two heaters under my desk…..
now when looking at the CCTV I can feel the sunshine from the tv screen enjoying my latest playlist for company as I plough through event risk assessments, but when encouraged out to join the field team I have demanded a Cinderella curfew!
Midnight.
This girl behind the emails gets a little moody once tiredness sets in. Ask any of the team.
That's where this blog leads me to…OUR TEAM!
We have some of the most amazing guys with us on 'JezO's' events. The pure professionalism and dedication that everyone gives to #teamjezos! Is exceptional.
On site banter, teamwork and delivering above and beyond.
I love event logistics!
I get to pick up the phone, call and text our network of crew and technicians who tirelessly work crazy hours behind the scenes building the event….
Then delivering the event where throughout are on hand to face anything that comes up…
Then into the night to de-rig and load your event back into the vans… all ready to start again before sun rises the next morning.
Each bring their own flair and skill and we love having each and every one of the boys as part of the JezO's family….. it makes me very proud to have such talented guys within our network of contacts who help us bring together such a vast range of events that fills our diary.
Plus it's always great when crew and technicians pop into HQ for a cup of tea… I get a very much needed break for a chat! Though I'm not sure the boss would agree! #unproductive
So what's left for the summer season??
Multi stage Festivals, music days, village days, fetes, carnivals, gala days, colour dash's, fairs, corporate family fun days, themed parties, charity events, garden parties, corporate celebrations, live music, graduation parties….
And of course to throw in the excitement and planning of the roots of the business and the involvement in the upcoming wonders of Magic! The Tour.
Peek season is well underway…
If you call the office and I do not answer or email me and I don't reply immediately……..I send my huge apologies, I am out of the office, quite likely to be driving a van… or in a field….but please leave a voicemail or await my email reply….. I look forward to carrying on the conversation very soon.
The girl behind the emails…