27 ideas to help you create your own amazing events that can be achieved with the smallest of budgets.
We come across many events of all different scales where the planners have unique and intriguing ideas but no budget to match.
Not every element of the event has to cost a fortune, Just add a little bit of creativity to your event planning and leave your guests impressed.
Promote your Brand
1. Give your guests a branded item for their attendance, whether it be a lanyard or a t-shirt with the event name on it, have your logo printed so everyone can see it.
2. Include your logo in with your catering, decorate cupcakes to include your logo or event name, use sweet bags or candy floss bags with your logo on.
3. Project your brand around the venue with a customised logo, point this at walls ceilings on the floor and you have instant advertising for your brand.
4. Use Printing at the venue entrance or around side stalls to promote your brand.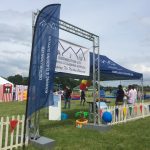 Promote your event
5. Get your guests to post on Facebook and Twitter and share your event on social media. Give your event a hashtag. #fatherdayfamilyfun
6. E- Newsletters. Keep your guests up to date and provide all of the information they need to know for the event by creating an E-newsletter group. A great site for providing this form of marketing is Mailchimp
7. As well as banners and posters another great way to promote your event is to create clothing to include the event name and details. It is a great way to get guests talking and raising interest in the event.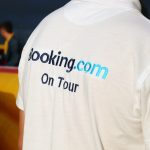 Lighting
8. Use Fairy lights in fish bowls or jars as table centres, also lighting up the inside of your venue.
9. Drape fairy lights across the ceiling to create a canopy or use them draped down walls
10. Use coloured festoon bulbs either inside or outside to add colour to the venue
11. Light up the outside of the building or entrance to give an instant WOW! factor for when your guests arrive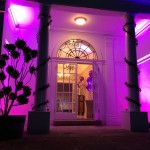 Freebies
12. Everyone loves something that costs nothing. Give away free tickets or incentives to sponsors and fundraisers.
13. Run an online competition and get followers sharing and commenting on your post.
14. Have a table of freebies and giveaways on arrival or handed out throughout your event.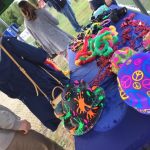 Catering
15. Keep your catering costs to a minimum by offering self serve. Separate the options into buffet stations around your event venue.
16. Taylor your catering to meet your event theme. If you are planning a beach themed event offer candy floss and sticks of rock or Fish and chips for example.
17. Create Mocktails so that all of the guests can enjoy a drink. These can easily be created yourselves by providing a 'Mocktail' station whether you chose to staff this or self serve depending on your budget.
18. Offer canapé's or appetizers at intervals throughout the event. This reduces the catering costs by limiting the amount of food needed to be sourced for the event.
19. Make as much of the food yourself or get others to help to keep the costs down. Do you have a friend who is a keen cake maker for example?
Décor and Design
20. There are many venues who have a lot of outdoor space on offer, utilise this area as an extension of the event or even create your whole event in the outdoors.
21. Use bunting around your event site, this can be home made to reduce the cost even more. Why not use the colours related to your brand or your event.
22. Add fairy lights to existing features in the venue and create a focal point.
23. Avoid additional costs of theming an event and keep it simple yet sophisticated by choosing a colour. Gold or Black and White are very popular.
24. Add Photo opportunity areas. A great way to offer an additional activity for your guests. Ask them to post on social media to also raise awareness of your event.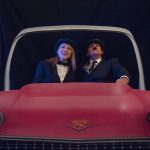 Activities
25. Add characters to your event. If you are planning a themed event have someone dress up in character. This can often add humour to the event and a great idea for both family events and adults only.
26. Provide giant garden games. These can be hired in or even created on your own. A simple coconut shy or Tin Can alley adds fun and competition toe event.
27. Bring in a Caricaturist or close up magician to provide entertainment for your guests. Although this can sometimes be quite costly, it provides a great talking point.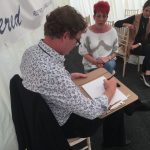 Just by being a little bit creative with what is available can be achieved and take the pressure off of event planning with even the smallest of budgets.