As we approach the end of 2016, we are looking forward to Christmas festivities and New year celebrations.  Panto season is well underway with the boss performing in Margate, the office has its very own Christmas tree decorated with cable ties and microphone heads (who knew microphone heads made such great baubles?). Our #countdowntochristmas is well underway. With the busyness of events, hires and parties filling the diary for the rest of the year and an ever growing number of bookings already being taken on a daily basis for the next year we are all very excited at what 2017 brings.
So I thought I would take the opportunity to give you ten reasons why you should choose JezO's Events ltd for your event in 2017.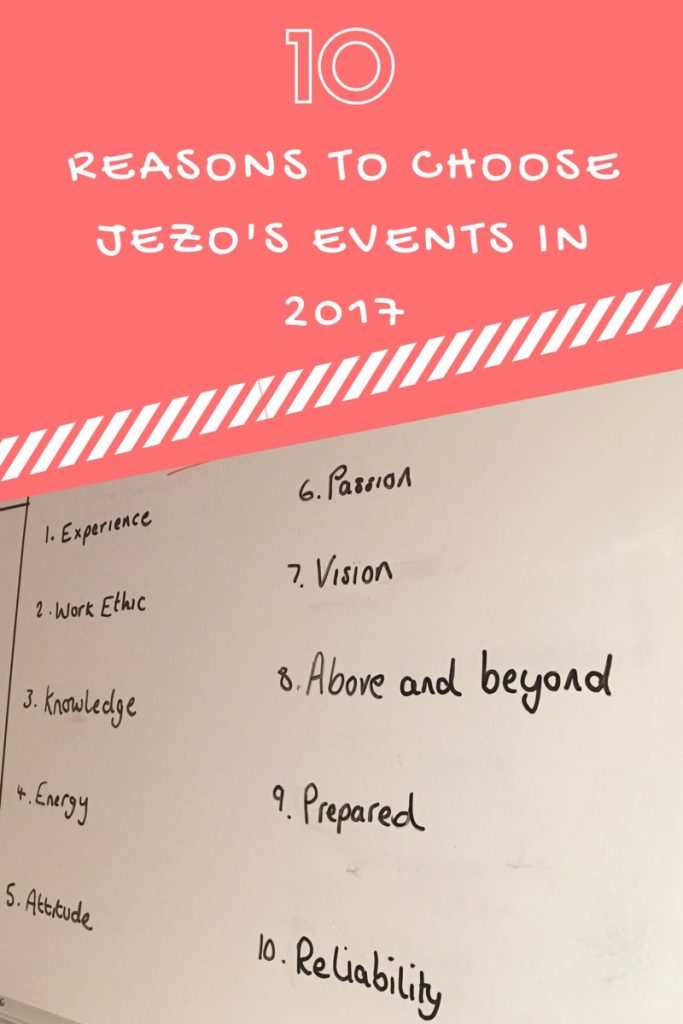 It is noticeable that each and every one of our ten reasons will cost nothing, yet the team deliver each reason on every single event no matter how big or small.
Where the events arm of the business continues to grow and thrive, the teams mastery of events gained through involvement within the industry of events and entertainment for over 11 years has gained them a respectable reputation.
The value of hard work and diligence to create the best possible result, with their expertise in the field of events, from start to finish. The boundless amounts of energy the team give to delivering the best possible results continuing on many occasions into the early hours of the morning loading equipment back into those branded vans.
JezO's Events are well known for giving that little bit extra, exceeding expectations. You can guarantee that they will always be prepared, whether you need a cable tie or to run power, they are always ready for anything on an event site.
With a professional yet positive 'can do' approach from start to finish, where each job is as important as the last, the dedication and enthusiasm is evident from each team member. The ability to look at a space and transform it into something special, whether it be a themed Winter Wonderland (appropriate at this time of year!) or an empty field and create a festival of fun
The imagination, creativity, finesse and flare is what sets the JezO's Events team apart from the rest.