JezO's Events are one of few companies in Cambridgeshire who stock inflatable stage covers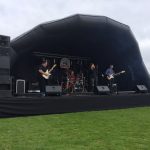 The Inflatable Stage Canopy creates a focal point at any event.
Our Inflatable stage canopies can be used for a variety of events from large scale festivals to small carnivals and fetes.
The dome measures 10m x 5m and has two exits at the rear to allow the transfer of acts to run smoothly and it runs off of a 2kw fan which is also included within the hire price.
The stage canopies can be placed on both grass and hard standing surfaces. Water ballast are also available for placing on hardstanding surfaces.
The inflatable stage canopies can also be placed on our portable staging system.