Use effective lighting to decorate your venue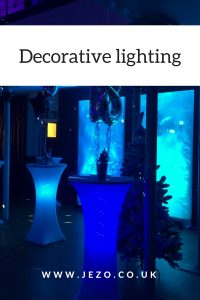 Light the inside of your venue to match the theme of your event.
From up-lighting walls to adding colour to set pieces, props and furniture. This will light up your venue and create a interesting focal point.
LED lighting can be as interesting or as simple as you wish to make it.
Whether a you're hosting a cocktail reception or an exhibition launch, you can be assured that the use of LED lighting within your venue will add the perfect touch of class.
If you are looking for a more traditional approach why not consider creating a magical atmosphere with the use of fairy lights and create a fairy light canopy over the roof of your guests?
View our online gallery for examples of previous work